Invalid OTP | Correct the Record Not Found Issues on PM Kisan Ekyc: Many changes have made in this scheme by the Central Government to take advantage of the financial assistance given under PM Kisan Yojana. In this scheme, only those registered farmer citizens will get the benefit of the scheme, who will complete the process of PM Kisan e KYC in the portal. It has clearly been started by the Central Government if the process of e-KYC has not been completed. The farmers will not get the benefit of the 10th installment. To help the farmers, the facility of e-KYC is available in PM Kisan Portal. Farmers can also complete the process of e-KYC by visiting their nearest CSC center. So let us know how farmers can correct Invalid OTP and Record Not Found in PM Kisan e KYC.
PM Kisan Invalid OTP
An amount of Rs. 6000 / – is provided to all farmers every year under PM Kisan Yojana. Which farmers can get only through the e-KYC process. This amount is provided to the farmers in three installments. Now the 11th installment has been released under this scheme.
For all the farmers who want to get it through e-KYC. But for some time now, there has been a problem with an invalid OTP in the portal. Whenever the farmer fills in his Aadhaar card number and OTP for his installment, he sees the option of invalid OTP or records not found.
PM Kisan KYC Problem
The link of the official website for e-KYC to get the installment is- www.pmkisan.gov.in Earlier e-KYC was not mandatory for the farmers to get the installment. But some time back e-KYC has made mandatory. Now you can get your installment only through this. So do Complete your e-KYC as soon as possible.
Otherwise, you may face problems in getting the next installment. By this, your PM Kisan installment will be directly deposited into your bank account. Because through this scheme 3 installments of Rs.2000/- are provided in a year. You can do your e-KYC from Farmer Corner by visiting the official website.
PM Kisan KYC Invalid OTP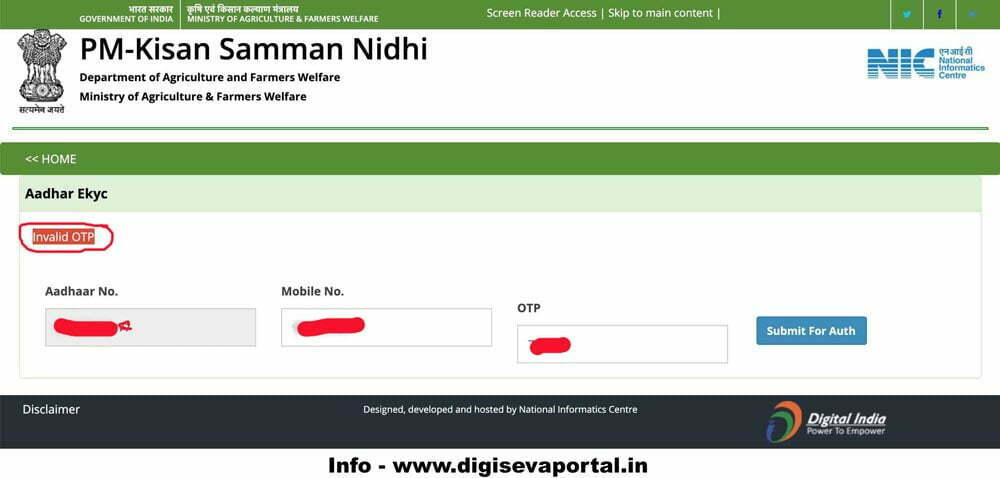 This problem is happening because the KYC server is down. Whenever you enter your Aadhaar Card Number, Mobile Number, and Time Password [OTP]. After filling in, when you click on 'Submit for Oath', you will see an Invalid OTP option. This may be because of your registered Mobile number is not linked with your Aadhaar card.
Or you have not updated your Aadhar card or mobile number. This can happen even if you have entered any other number in your PM Kisan portal. If you see the Invalid OTP option while doing e-KYC, you need to try again. Still, if the OTP option is shown as invalid, then you have to open it by visiting the CSC center.
PM Kisan KYC Invalid OTP Solution
There is only one way through which you can get your 11th installment. You have to link your Aadhar card number. Or you may have to update your registration number. You can also visit your nearest CSC center even if you do not get the record.
You can open it with your fingerprint by visiting the CSC center. If even after trying all the methods your OTP is invalid then in the end only you will be able to open it by visiting the CSC center only through your biometric authentication.
If you want to ask anything about PM Kisan KYC, then you can ask us by messaging us in the comment section. We will definitely reply to you soon.
PM Kisan Invalid OTP and Record Not Found in PM Kisan eKYC
To get a solution to the problem of Invalid OTP and Record Not Found in the Kisan Samman Nidhi Yojana, get your mobile number linked with your Aadhaar. Or farmers can also complete the process of e-KYC without OTP. For this, you have to go to your nearest public service center and complete e-KYC under your fingerprint.