Microsoft's Free Certificate Courses for CSC VLEs: In a world increasingly driven by technology, digital literacy and skills have become essential for success. Recognizing the importance of empowering individuals with relevant expertise, Microsoft has taken a commendable step towards equipping Village Level Entrepreneurs (VLEs) with the knowledge they need.
Microsoft is providing free Microsoft Certificate Courses to 1000 VLEs
Microsoft is offering free Microsoft Certificate Courses to 1000 VLEs! and to celebrate this initiative, a Live Event has been scheduled on 31st May, 1st, and 2nd June, 2023. This event promises to be a valuable opportunity for VLEs to enhance their skill sets and stay ahead in the digital era. Let's delve into the details of this exciting initiative.
Empowering CSC VLEs with Microsoft Certificate Courses: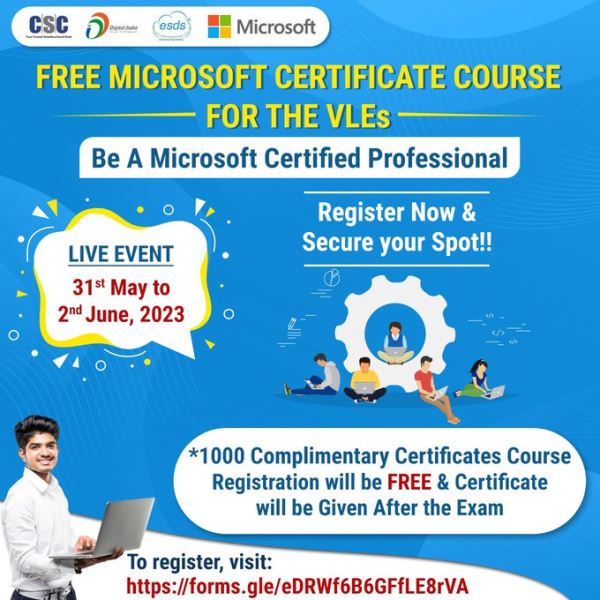 Microsoft's commitment to bridging the digital skills gap has been evident through various initiatives! and their latest effort focuses on VLEs. VLEs play a crucial role in rural communities, providing access to digital services and acting as a key link between technology and the local population. By offering free Microsoft Certificate Courses to 1000 VLEs! Microsoft aims to equip them with the necessary knowledge to deliver enhanced services and support to their communities.
How to Join the Live Event:
Participation in the Live Event is simple. VLEs who have registered for the free Microsoft Certificate Courses will receive an invitation to join the event. The event will be conducted virtually, allowing VLEs from all over the world to participate without any geographical constraints.
Article – CSC Ayushman PVC Card Delivery [Registration Required]
To register for the Microsoft Certificate Courses and secure your place at the Live Event, visit the Registration Link
The Live Event: Uniting CSC VLEs for Knowledge Exchange
To celebrate this initiative and foster a sense of community! Microsoft has organized a Live Event on 31st May, 1st, and 2nd June, 2023. This event will serve as a platform for VLEs to come together! share experiences, and learn from experts in the field.
During the Live Event, participants will have the opportunity to:
Attend keynote sessions: Esteemed speakers from Microsoft and the technology industry will deliver inspiring talks! shedding light on the importance of digital skills and how they can drive positive change.
Participate in interactive workshops: Engage in hands-on workshops! where experts will guide VLEs through various topics related to the Microsoft Certificate Courses. Participants can ask questions, seek clarifications, and deepen their understanding of the course material.
Network and collaborate: Connect with fellow VLEs from different regions, exchange ideas, and form valuable partnerships. This networking opportunity can lead to the sharing of best practices and the creation of a supportive ecosystem.
Gain insights from success stories: Learn from VLEs who have already completed the Microsoft Certificate Courses! and successfully implemented their learnings in their communities. These success stories will provide inspiration and practical guidance.