DigiPay Android Version | CSC DigiPay V6.9 Download | CSC DIGIPAY 6.9 Download | Digipay New Version RD Service | Download DigiPay (v6.7) for Windows | CSC DIGIPAY Version 6.8 | DigiPay (v6.9) for Android Download | Digipay v6.9 for Android New
DigiPay uses Aadhaar Enabled payment System (AEPS). For delivering online banking services securely across the nation. The application is user-friendly, convenient, easy. It's a unique way of transacting through Aeps.
What's The New Services are Available in DigiPay Android
Cash Withdrawal
Cash Deposit
Balance Enquiry
Mini Statement
DigiPay Passbook
Domestic Money Transfer
नकद निकासी
नकद जमा
बैलेंस पूछताछ
मिनी स्टेटमेंट
डिजिपे पासबुक
घरेलू धन हस्तांतरण
DigiPay Download For Android Short Info
| | |
| --- | --- |
| Service Name | Digipay For Android |
| CSC DigiPay – AEPS Banking | Google Play Store |
| Service Provider | CSC SPV |
| Digipay Android New Version | Click here |
| Digipay Android old Version | Click here |
What's New On Android Version 2023
Bug Fixes
DMT Enhancements
Money Transfer
Money Withdraw
Contactless Transaction
Secure Payment
The system is based on Aadhaar authentication of the user and eliminates the threat of any fraud and malicious activity. Aadhaar facilitates "anytime, anywhere" authentication to its beneficiaries. DigiPay delivers inter-operable banking services across the country. In DigiPay Mobile Version will enable easy delivery of banking/financial services in far flung and banking deprived areas of the country thus playing a vital role in making a cashless India.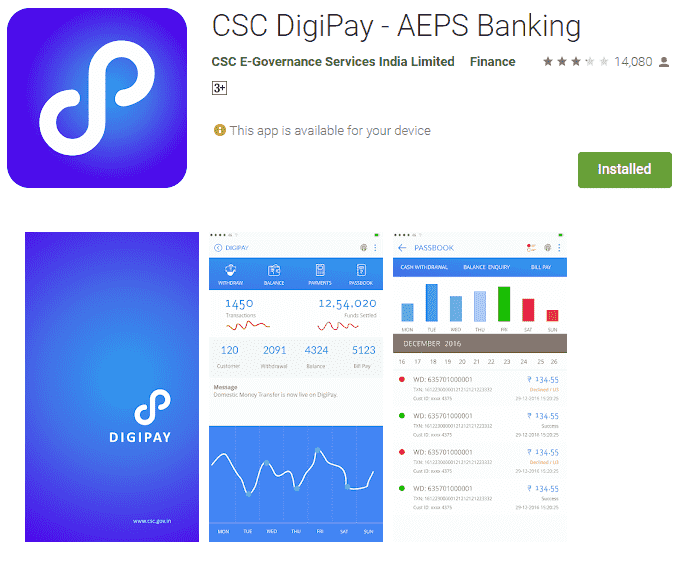 The installation of DigiPay is absolutely free of cost. There are no hidden charges involved. DigiPay is a safe and secured application offered by CSC E-Governance Services India Limited. All you needs is a Smart phone with OTG support for a Biometric scanner.
Article – DigiPay Lite Web Login, Registration, and Download
यह प्रणाली उपयोगकर्ता के आधार प्रमाणीकरण पर आधारित है और किसी भी धोखाधड़ी और दुर्भावनापूर्ण गतिविधि के खतरे को समाप्त करती है। आधार अपने लाभार्थियों को "कभी भी, कहीं भी" प्रमाणीकरण की सुविधा प्रदान करता है। DigiPay देश भर में अंतर-संचालित बैंकिंग सेवाएं प्रदान करता है। डिजिपे में मोबाइल संस्करण देश के दूर-दराज और बैंकिंग से वंचित क्षेत्रों में बैंकिंग / वित्तीय सेवाओं के आसान वितरण को सक्षम करेगा और इस प्रकार कैशलेस भारत बनाने में महत्वपूर्ण भूमिका निभाएगा।
डिजिपे की स्थापना बिल्कुल मुफ्त है। इसमें कोई हिडन चार्ज शामिल नहीं है। DigiPay सीएससी ई-गवर्नेंस सर्विसेज इंडिया लिमिटेड द्वारा पेश किया गया एक सुरक्षित और सुरक्षित एप्लिकेशन है। आपको बायोमेट्रिक स्कैनर के लिए ओटीजी सपोर्ट वाला एक स्मार्ट फोन चाहिए।
DigiPay Android New Version Download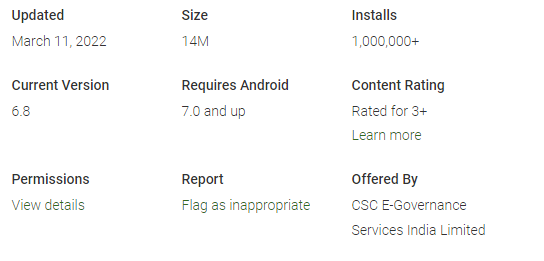 DigiPay Android Old Version Download