CSC DIGIPAY 7.3 Download 2023 RD Service | Digipay New Version Download | DigiPay (v7.3) for Windows | CSC DIGI PAY Version 7.3 (v7.3) Download 2022. CSC DIGIPAY (v7.3) Download CSC DigiPay v6.9 Download for Android | Digipay new Version | DigiPay (v7.3) for WindowsNew डिजीपे डाउनलोड | DigiPay Download | DigiPay Lite Login| DigiPay Lite Registration
Digipay New Version Download – CSC DIGIPAY (v7.3) Download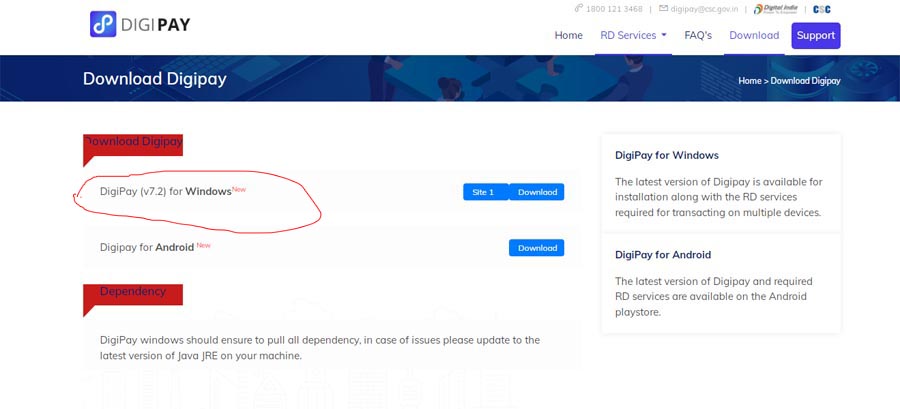 Recently, CSC SPV has changed some services of NEW CSC DIGIPAY. CSC DIGIPAY (v7.3) Download Digital Service Portal added some more new services! V7.3 version of DIGIPAY has been updated by CSC to Digipay. Now Money Transfer Service has also been provided. If you want to take advantage of this New Service of DIGIPAY. Then for this, you will have to update your Digipay software or uninstall your old software completely and reinstall it. Install The New DigiPay (v7.3) Software Download. The link to download DIGIPAY v7.2 Software Download Link is given below.
Also Read – Application for CSC Axis Bank BC Point
Digipay Latest Version Download Short Information
| | |
| --- | --- |
| Service Name | CSC DigiPay Download |
| Category | Central Govt, Banking & Finance |
| Service Provider | CSC SPV |
| CSC Digital Seva Official Website | csc.gov.in |
| DigiPay Official Website | digipay.csccloud.in |
| New Service | Balance Summary After Every Transaction |
| DigiPay Update Released | 08 Jun 2023 |
| Digipay Android Version Download | Click Here |
| DigiPay Lite | Click here |
DIGIPAY v7.2 New Update Version Download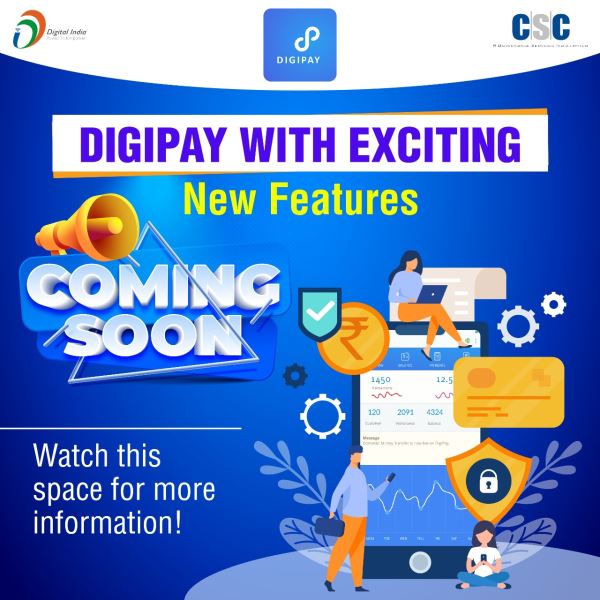 In Digipay v7.2, Some new features have been added as well as the performance of the software has also been increased. Some problems faced by Digipay have also been fixed. Friends, the new version of Digipay has been updated by CSC. Now you can easily download DigiPay (v7.2) from Digipay's official website digipay.CSCcloud.in and use it.
After the new update of Digipay v7.2, Many problems coming to Digipay have been resolved. After this New update of Digipay, now all VLEs who transact with Digipay, will not face any problems in doing the transaction, and along with this, many bugs have also been fixed in Digipay Software. DIGIPAY v7.0 (v6.9) Download
Also, See – CSC Digipay Micro ATM
New Added Services in DIGIPAY Version v7.3
After the withdrawal of cash, now the customer will get the information on his balance
Money Transfer
Cash Withdrawal
Balance inquiry
Bill Payment etc.
Aadhar To Aadhar Fund Transfer
New Features on Digipay v7.3
Cash Deposit
Iris Transactions
DMT (Domestic Money Transfer)
Micro ATM
Wallet Top-Up
CSC DIGIPAY New Version 7.3 Download Link
DigiPay Latest Version Download | CSC DIGIPAY (v7.3) Download
Another great news is coming out for CSC Common Service Center operator brothers, CSC SPV has changed the service of DIGIPAY in its digital service portal and has made the money transfer service live.
If you want to take advantage of CSC's money transfer service and you want to take money from your DIGI PAY Wallet in your bank account in a few seconds, then for this you have to update your DIGIPAY Software or you can delete your old software. Install the new software, the link to the new software is given below, from where you will be able to download it and install it on your computer.
Friends, here we have given direct links to Download DigiPay for all of you, if you want to download DigiPay for mobile then click on the DigiPay (v6.9) for Android link and if you want to download for computer then click on DigiPay (v7.1) for Windows link. DIGIPAY Update
 

https://digipay.csccloud.in/rdservices/downloaddigipay
CSC Digipay 6.7 Download Direct Link
Note: if the google drive link doesn't work please use the media fire link. Google is blocking the zip file of the new version of Digipay due to a virus scan failure, we will update the link soon if the link is broken.
Digipay 6.6 Software Download
CSC DIGIPAY Old Version 6.5 & 6.8 Download Link
Digipay BY CSC e-governance CSC DIGIPAY 7.2 (v8.0) Download 2023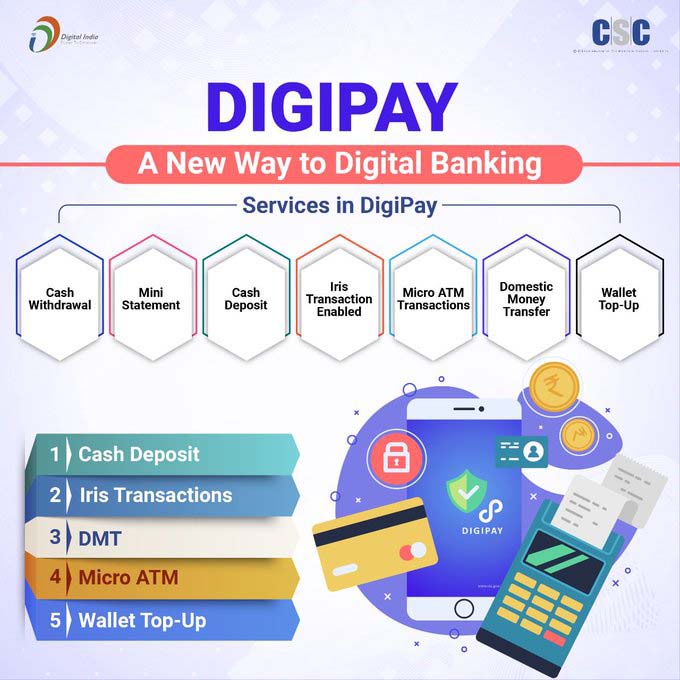 CSC e-Governance Services India Limited has collaborated with The National Payments Corporation of India (NPCI) to launch Aadhaar Enabled Payment System (AePS) at locations where CSC is acting as a business correspondent. This payment system name is DIGIPAY.
This system facilitates the disbursement of Government entitlements like NREGA, Social Security Pension, Disabled, Old Age Pension, etc. to any Central or State Government Institution/Institution using UIDAI's Aadhaar Authentication Service.
The system is based on the demographic and biometric/iris information of an individual, which minimizes the risk of any fraudulent or non-genuine activity. Aadhaar facilitates authentication for the citizen/customer anytime, anywhere, in any way.
This service is currently working on Windows and Android-based laptops/desktops/mobile phones.
How to use After DIGIPAY 7.3 Download 2023
CSC-SPV in association with the National Payments Corporation of India (NPCI) and IndusInd Bank has launched Aadhaar Enabled Payment System (AePS) at all CSC locations across the country. The system is based on the Aadhaar authentication of an individual, which eliminates the threat of any fraudulent and malicious activity. Aadhaar will facilitate 'anytime, anywhere authentication to its beneficiary.
VLEs can also take advantage of their CSC Center and play a vital role in creating a cashless society as per the vision of the government. Digipay is a simple, secure, and seamless way of transacting through Aadhaar-based authentication.
How to Fix Errors Coming on Digipay
Most of the CSC operators have to face many problems in using Digipay, there are many DIGIPAY Errors due to which You are not able to work properly in this software and they have to face many problems in doing any transaction.
So let us tell you here about some such common DIGIPAY Errors and we will also tell you about how to fix them here.
Insufficient digipay balance Unable to proceed with the transaction
If a VLE is facing the above-mentioned problem, you must first sync your Digipay Passbook to the CSC VLE. So that the wallet balance is updated after every transaction. Once the Digipay balance key is updated, VLE can easily make Digipay balance payments using NEFT/IMPS facility.
Device authorization failed during the Digipay login
If VLE is facing the above problem while login Digipay. Then CSC VLE follows the below steps,
first of all, go to the C drive of your computer and copy and keep the Digipay folder available under the CSC e-Governance Services India Limited folder.
Uninstall Digipay from your computer and also remove the CSC e-Governance Services India Limited folder from the C drive
Now download the updated version of Digipay (Banking App) and re-install it on your computer and re-register with Digipay. Doing this will solve the problem extra: Now restore the copied folder in the same place.
If unable the find of CSC id please provide a CSC ID
If any CSC operator's CSC ID is showing unavailable in Digipay, then he has to first check his banking by clicking on the given link https://register.csc.gov.in/myaccount/login or log in with CSC ID If something is wrong, then you have to update it or you have to login once in the Digital Seva Portal to see if the ID is being logged incorrectly or not, the such problem mostly comes due to wrong banking details.
Other Software to Run CSC DIGIPAY on Computer
If you are CSC VLE and want to use Digipay install it on your computer. Then you have to install some other software/drivers on your computer along with Digipay. Otherwise, you will not be able to use this software on your computer. If you do so, you may be facing many problems. The following software must be installed on your computer to run Digipay.
1. Microsoft .NET Framework 4.5: Direct Link
2. Microsoft Visual C++ 2010 Redistributable Packages: Direct Link
If You want to download and install the above drivers, you can download them. By visiting the official website of Microsoft Windows. You will find this software on the official website of Digipay. Even you can directly go to the download page by clicking on the direct link given above.
CSC DIGI PAY Version 7.3 Installation Process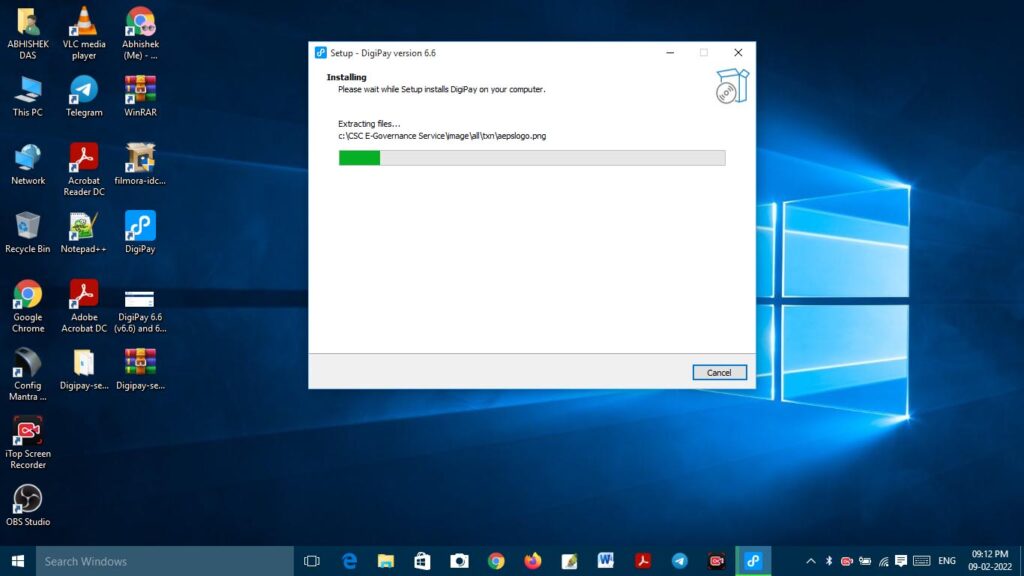 It aims to achieve interoperability among banks for Aadhaar-based payment transactions. The DIGIPAY application will enable CSCs to meet the need for financial services in remote and unbanked areas of the country.
Recently CSC SPV launched Digipay 7.2 version, here you are given the service of money transfer and also you can do many more things here.
DigiPay 7.3 Passbook Details
By clicking on the passbook icon, the VLE will be able to track his services transactions such as cash withdrawal, balance inquiry, wallet, and payment as shown.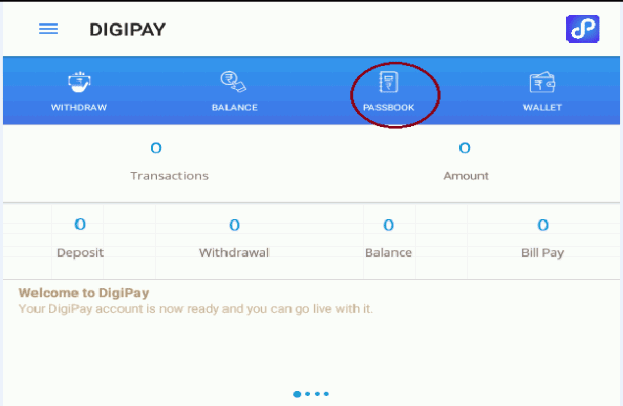 The VLE has to select the date and click on 'Go' to view the date of all the transactions. He can also download the transaction details in an excel sheet in .csv format.
A full sync facility is introduced in Passbook so that VLEs can regularly update their transaction details along with their Digipay balance. DigiPay balance is calculated as per the transaction done by the VLE. This balance is used to determine the payout request amount.
CSC Digipay Registration On Android 2023
After this, an icon of "Digipay V6.9 For Android" will appear on your mobile, click on it and open it.
If your fingerprint device is not properly connected to your mobile then your software will not be open.
And you will get a pop in which it will be written that first connect the fingerprint device correctly.
And if the fingerprint device is connected correctly, you will see the screen shown above.
After this, you will have to sign up yourself first in this software! in which you will be asked for your CSC ID and your Aadhaar number below.
So you fill in your CSC ID and enter your Aadhaar number, check the term and conditions below and click on the process button.
After this OTP will be sent to you on your registered number.
You will be shown the last 4 digits of your mobile number, you check the OTP on that mobile number.
And enter OTP in this box, after entering OTP, click on Verify OTP.
After this, a new page will open in which your CSC ID, your name, your mobile number, and your registered bank will appear here.
You have to check the information and put a checkmark.
As soon as you put a check mark! now the light of your fingerprint device will light up and you have to put your finger there.
And you have to verify yourself.
After verifying your application will be successfully registered.
DigiPay Android New Version Installation Guides
To register on the application after installing DigiPay on Your mobile! the VLE needs to enter their CSC ID and valid Aadhaar number in the blank boxes and click on the checkbox 'Give consent'. After clicking on the check box, click on proceed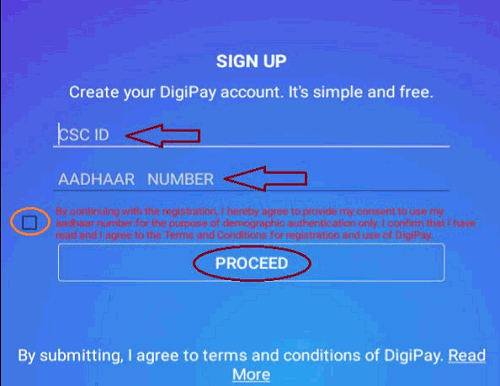 To sign up for the DigiPay account! VLE needs to enter the OTP sent to his registered mobile number and click on the 'VERIFY OTP' button to validate the CSC ID and Aadhaar number.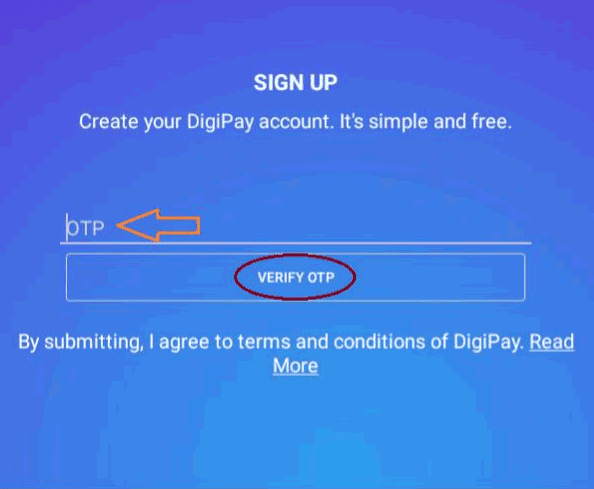 To complete the registration process! the VLE has to give his consent and click on the 'Scan' button to scan the Iris. Scanning is done through the biometric mode of authentication. Hold your camera in front of your eyes to complete the process as shown
After successful authentication, the User/VLE will be successfully registered on DigiPay App. Message for successful registration on the Digipay app will be auto-displayed on the screen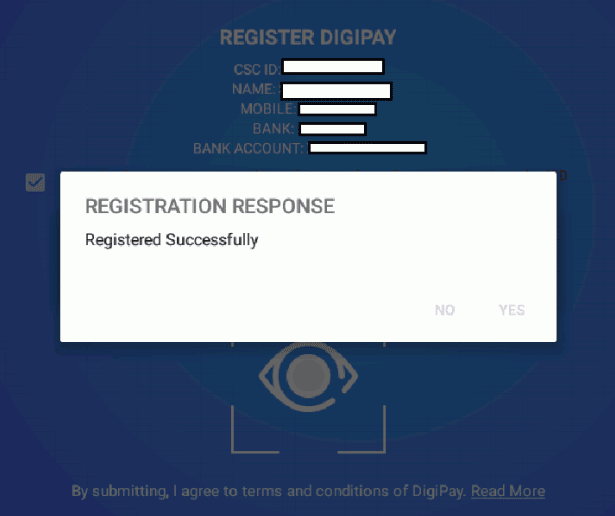 What are the new Benefits of CSC DigiPay v7.3 Download
NREGA, Pension, Disbursement of Disability, Payment
Good commission without any investment
money transfer services
No transaction fee on NEFT transactions
There is no extra charge for this is a government banking app
Developed by CSC e-Governance Services India Limited
No Agent Fee, This is a Government Supported banking app
Same day Balance Settlement to csc vle
Secure and Trustable Digipay APP Developed By By CSC E-Governance Services India Limited
Disbursement of payments of NREGA, pension, Handicapped, Old Age Pension
Good Commission Without Any Investment
Money Transfer Services at Lowest Rate
Direct Bank Transfer and CSC Wallet Recharge
No Transaction Fee On NEFT Transaction for Payout
Easy to use
DigiPay 7.3 RD Services Download
As soon as you have installed DIGIPAY 7.2 (v7.2) Download software on your computer, or mobile then after that you have to install an RD service driver to use your fingerprint machine.
If your mobile or computer does not have this RD service then this Digipay software will not work. If you do not have RD service installed on your computer or mobile then your fingerprint machine will not work.
How To Download and Install DIGIPAY RD Services
To download RD Services, you can go to Digipay's official website digipay.csccloud.in. After reaching the home page of the website. you will get to see all the fingerprint devices under the main menu of the website. by clicking on which your RD service driver will download
Digipay Download for pc windows 7 32 bit
| | |
| --- | --- |
| Digipay Download for pc windows 7 32 bit | Click here |
DigiPay latest version 5.6 download
| | |
| --- | --- |
| DigiPay latest version 5.6 download | Download |
Digipay Download Old Version
Digipay Help & Support Contact Details
Toll-Free Number: 1800 121 3468
email: [email protected]
Website: digipay.CSC cloud.in
Follow us to get the latest news and updates
DigiPay FAQs
Digipay is a software and mobile app released by CSC e-Governance through which a CSC operator can perform banking functions such as money transfers, cash withdrawals, etc
CSC e-Governance Services India Limited
You can easily Download DigiPay software from the given link https://digipay.csccloud.in/rdservices/downloaddigipay
Yes, It is also available for mobile device
"No" Digipay is absolutely free to use application
CSC VLE will Get a commission on every transaction for withdrawing money through Digipay
No' This is only for CSC VLE.
The latest version of Digipay is Version 7.2 for Windows and Version 8.0 for android till now. But it Will be Updated in several periods.