Are you wondering about the status of your bank account Aadhaar seeding? Look no further, as we guide you on how to check your Aadhaar seeding status with the Unique Identification Authority of India (UIDAI) and all banks.
Aadhaar seeding is the process of linking your Aadhaar card with your bank account. This is an important step as it enables you to receive various government subsidies and benefits directly into your bank account.
Bank Aadhaar Seeding Status
The Government of India has recently made it mandatory for all beneficiaries of Welfare Schemes to link their Bank Accounts with their Aadhaar Cards. This process, known as Bank Aadhaar Seeding, ensures that all the benefits of Government schemes are transfer directly to the linked Bank Account.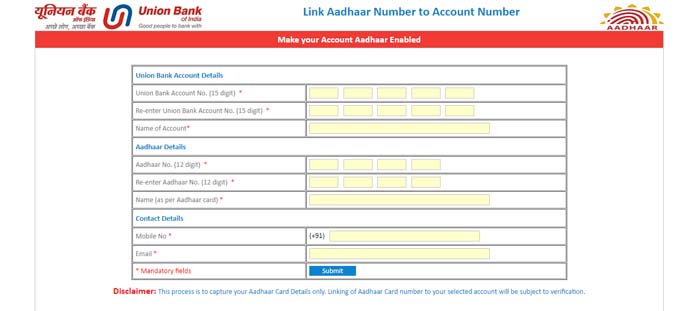 If you have apply for any government scheme! it is crucial to check the Aadhaar Seeding Status @Uidai to ensure that the process has completed. To do this, you can visit the official website of your Bank and follow the steps mentioned below:
Click on the Bank Aadhar Status Check link provided on the website.
You will be redirected to the Seeding Status page.
Enter your Bank Account Number and Mobile Number in the respective fields.
Click on the 'Check Status' button.
Read:) Aadhaar Card Link BOB [Bank Of Baroda] Account Online
How to Check Your Aadhaar Seeding Status?
To check your Aadhaar seeding status, follow these simple steps:
Visit the official website of UIDAI (

https://uidai.gov.in/

).
Click on the 'Check Aadhaar & Bank Account Linking Status' link.
Enter your Aadhaar number and the security code displayed on the screen.
Click on 'Send OTP'.
An OTP (One-Time Password) will be sent to your register mobile number.
Enter the OTP and click on 'Submit'.
The website will display the status of your bank Aadhaar seeding.
Please note that the status may take some time to be updated, so it's advisable to check it after a few days if it shows as 'Not Available' initially.
Read:) How to Apply for New Aadhar Card Online
Aadhaar Seeding status with your bank

If you prefer to check your Aadhaar seeding status with your bank, here's what you need to do:
Visit your bank's official website or mobile banking app.
Login to your account using your credentials.
Look for the 'Aadhaar seeding' or 'Link Aadhaar' option.
Enter your Aadhaar number and other required details.
Submit the request to check your Aadhaar seeding status.
It's important to keep in mind that the process and steps may vary slightly depending on the bank where your Account is open. If you face any issues or have any queries, you need to reach out to your bank's customer support for assistance.
Bank Account Wise Aadhaar Seeding Status Check
Benefits of Bank Aadhaar Seeding
Linking your Aadhaar card with your bank account offers several benefits, including:
Direct transfer of government subsidies and benefits to your bank account.
Elimination of duplicate and fake accounts, reducing the chances of fraud.
Easy access to various government services and schemes.
Efficient and transparent delivery of government services.
Conclusion
Checking your Aadhaar seeding status for Bank A/C is crucial to ensure that you are receiving the benefits and subsidies. The UIDAI has made it convenient for individuals to check their status online. By following the simple steps mentioned above, you can easily find out whether your Aadhaar card is linked to your bank account or not. So, don't wait any longer, check your Aadhaar seeding status today!