As the festive season approaches, DigiPay, a leading digital payments platform, is spreading the joy by introducing an exclusive festive offer that is sure to delight its users. Get ready to revel in the festivities as DigiPay unveils a special promotion – a 10% additional commission on Domestic Money Transfer (DMT). This limited-time offer is designed to bring a smile to the faces of both DigiPay retailers and customers alike, making the season of celebrations even more rewarding.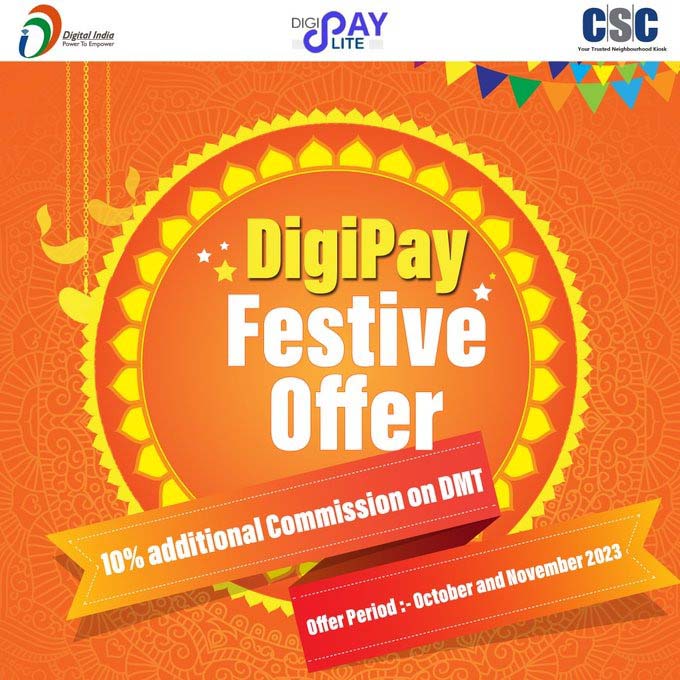 Unlocking the Joy of 10% Extra Commission:
DigiPay's festive offer takes the form of a generous 10% additional commission on Domestic Money Transfer transactions. This means that DigiPay retailers can enjoy increased earnings during the festive period, making it an ideal time to engage with customers and boost transaction volumes.
How It Works: DigiPay Festive Offer
Participating in this festive offer is simple and straightforward. DigiPay retailers need to continue providing seamless Domestic Money Transfer services to their customers using the DMT feature on the DigiPay platform. For every qualifying transaction, retailers will receive an extra 10% commission, adding a festive sparkle to their earnings.
Key Benefits Of DigiPay Festive Offer for DigiPay Retailers:
Increased Earnings: The additional 10% commission on DMT transactions translates into higher earnings for DigiPay retailers, making it a lucrative opportunity during the festive season.
Customer Engagement: The festive offer provides an excellent opportunity for retailers to engage with existing customers and attract new ones by promoting the enhanced commission rates.
Competitive Edge: DigiPay retailers can gain a competitive edge in the market by offering customers not only a reliable money transfer service but also the added benefit of extra earnings during the festive period.
Boost in Transactions: With the allure of additional commission, retailers can expect a surge in DMT transactions, contributing to increased footfall and business growth.
Benefits for DigiPay Users:
Cost-Effective Money Transfers: DigiPay users can continue to enjoy the convenience and cost-effectiveness of Domestic Money Transfers, with the added bonus of their trusted retailers benefiting from increased earnings.
Festive Savings: The festive season often involves increased expenses. With DigiPay's 10% additional commission offer, users indirectly participate in the celebrations by contributing to the prosperity of their neighborhood retailers.
Conclusion:
DigiPay's festive offer of 10% additional commission on DMT is a win-win for both retailers and users. As the season of celebrations unfolds, DigiPay continues to demonstrate its commitment to providing value and fostering financial prosperity. Retailers are encouraged to seize this opportunity to maximize their earnings, while users can revel in the joy of cost-effective and rewarding money transfers. This festive season, let DigiPay be your trusted partner in spreading happiness and prosperity!