ICICI Bank is offering a Zero Balance Account facility. You can open Zero Balance at ICICI Bank online with full KYC and get the best services from ICICI Bank. Debit Card, Net Banking, Mobile Banking, Check Book.This all are available on ICICI Zero Balance Account. This article contains the complete procedure for opening ICICI Bank Zero Balance Account. ICICI Bank has launched a Zero Balance Account called Insta Mine Savings Account. This account can be open online which will require an Aadhaar card and PAN card and the mobile number. Which must also be link to the Aadhaar card. KYC of this account can only be accessed  online through Video KYC.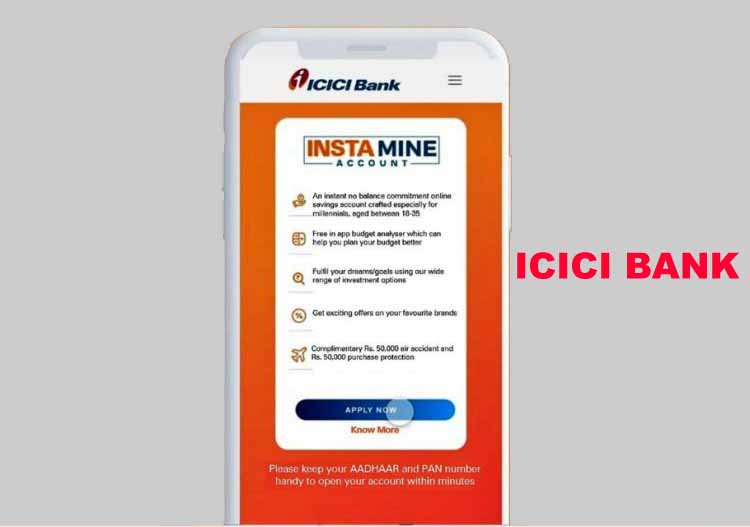 ICICI Bank Insurance or benefits?
Admirable Plane Accident Insurance: Rs. 50,000
Admirable Purchase Protection: Rs 50,000 for goods purchased from ICICI Bank Debit Card for 90 days from the date of purchase against theft, fire, or transit damage.
Also, Read –HDFC Zero Balance Account Open Online
ICICI Bank Debit card benefits?
Depending on your style with my debit card iMobile transaction limiting options
A virtual debit card is available as soon as the account is open and can be use for e-commerce transactions.
Upgrade to a personalized Mine + debit card with attractive offers on your favorite brands
Cashback of selected merchants via Zomato, BigBasket, BookMyShow, Myntra, and Bill Payment Mine + Debit Card
Also, Read- CSC Bank Mitra Registration
ICICI Bank Convenient banking at your Convenience.
24×7 banking access with iMobile and internet banking services.
Free e-mail statement.
Withdraw 5 free ATMs per month from any bank ATM.
Also, Read – CSC ICICI Bank BC Registration
ICICI Zero Balance Account Opening Online
1. First of all you have to go to the link given below ICICI ZERO Balance Account Opening Online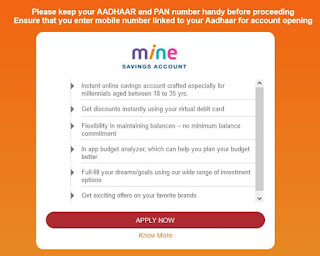 2. After giving permission for the location, click on Apply Now. After this, a mobile number that is link with an Aadhaar card has to be enter, along with an email id and pan card number, and then proceed further.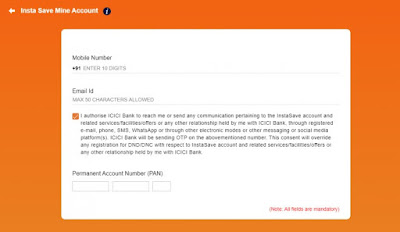 3. After this OTP will come on the register mobile number, that is to be enter and on this, the pan card number will also be verify.

4. After this you have to enter and process Aadhaar card number and after that, you have to enter Aadhar OTP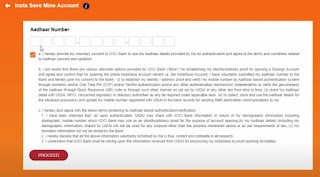 5. After this some personal details have to be given and proceed further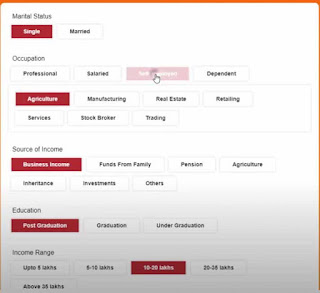 6. After this, the name of the parent has to be filled and one has to select the nominee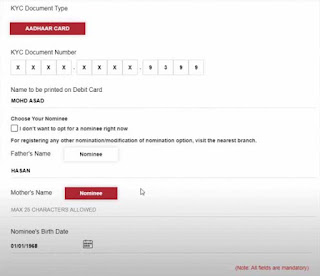 7. After this you have to fill in your address. If you have to keep the communication address separate, then you can fill whatever you want, no proof of that will have to be submitted and a debit card, etc. will come to the same address.
8. After this, we will accept and process the terms. After this, if you want, you can deposit money in your account and if you do not want to deposit money, then skip it.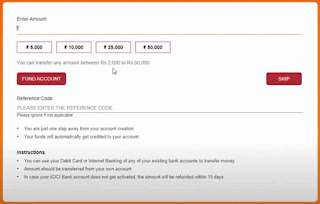 9. After this your account will be open and you will get the account number, branch name, and IFSC Code. Now if you want, you can also do video KYC from this or you can do full KYC by going to the branch.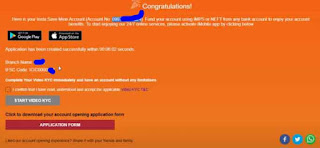 Your account has been opened and it is a lifetime zero balance account, no balance is required to be maintain in it. After this, you can create a net banking password. The debit card will come automatically to the address in 1 week.
Important Web Links